One of the most popular genres in porn right now is MILF/cougar. It's actually one of the more recently developed, as the term became widespread in 1999 when Stiffler's mom was identified as a MILF in American Pie. One of the earliest porn movies I know of in the genre was 2002's M.I.L.T.F. #1 – still a decent film in my opinion, even by today's standards.

What makes a good MILF? I think any woman in a MILF role should be over 35 (of course), very confident and beautiful in an elegant way, not a trashy way. You can tell when a woman has taken care of herself and knows what she wants. Twenty-somethings may be cute, but a MILF has experience and isn't afraid to use it.

So with that in mind, I present my Top 5 MILF/Cougar performers (don't forget to vote for yours at the end of the post):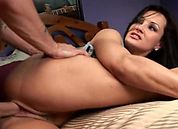 Lisa Ann is, in my humble opinion, Queen of the MILFs. She started performing in 1993 at age 21 but left porn four years later over an AIDS scare. She made her comeback in 2005 and has become one of the most popular, recognizable MILF actresses in the business.